Loxahatchee Lawson Windows
As much as any part of a house or building, windows hold great importance. They do not only bring additional aesthetic in your place but also act as protection against any harmful outside elements. They play a vital role in ventilation, keeping strong winds out, and preventing debris from entering your place. So if you are constructing a new building or renovating one in Loxahatchee, only purchase Lawson Windows from South Florida Windows and Doors.
There are a lot of windows manufacturers in the country, but Lawson Industries proved to be the best in the field. We, at South Florida Windows and Doors, are proud to offer our vast selection of Lawson windows. They come in different and personalized styles yet with equally high quality. No matter what you choose, they will surely cover what you need.
Lawson Industries is established in the 1960s and has long since earned the trust of builders and homeowners. By now, despite the existence of other big names in window production, Lawson windows remained one of the top brands in the country. The company is a well-known and respected member of the American Architectural Manufacturers Association. It is also part of the National Association of Home Builders and other famous trade organizations.
We know that you want only the best for your Loxahatchee property. So please don't settle for less when it comes to your windows, go for the esteemed and highly acclaimed Lawson windows. We guarantee that you will never regret it.
Contact South Florida Windows and Doors at (754) 704-1033 to get a free quote for your Lawson windows now!
Top-Grade Quality Lawson Windows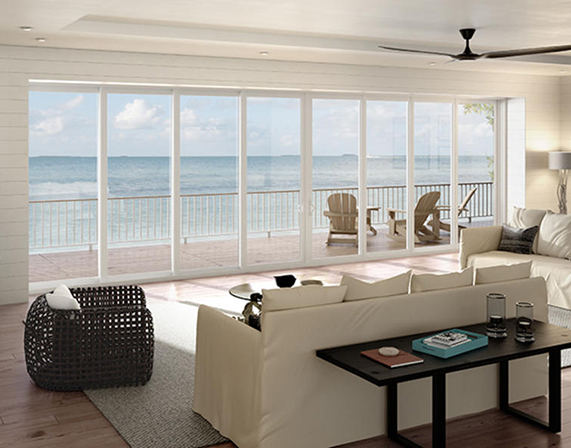 When it comes to durability and one-of-a-kind craftsmanship, there is probably none that could beat Lawson windows. Being a company that is based in Miami-Dade County, Lawson Industries produces windows that undergo the most rigorous testing standards in the country.
Miami Dade County's standards are raised only to open their market for products that could withstand Category 5 storms. This is a response to the tragic devastation brought about by Hurricane Andrew in Miami year 1992. Since Lawson windows never failed this thorough and high testing standards, they are more than fit to be used in Loxahatchee and anywhere in the whole world. This type of durable material is what we offer you here in South Florida Windows and Doors.
Even if you may not find Lawson windows in big box stores and frequently aired endorsements, their track record is admired by developers and professionals in the construction industry. The quality of their performance is indisputable and will never crush any expectations that you set on them. They are made from only the finest materials, wielded by no less than experienced professionals, and set to last even against the harshest weather that could hit your area.
Please choose from our available Lawson windows now and never worry about replacing them any time soon!
Wide Design Selection
Aside from offering durable products, our set of Lawson windows also come with different styles that you can choose from. Whether you want the standard-type windows or want something customized for your specific needs and goals, we can provide it for you.
Our available Lawson windows are:
1. Designer windows
2. Picture windows
3. Single Hung windows
4. Horizontal Rolling windows
All these are available as either standard or impact windows. You can also freely choose what will be their style, dimensions, tint color, frame color, and slide direction based on the given options. You can even customize the shape of these windows. A great way of expressing your personality, right?
Additionally, Lawson windows can be purchased with the glass type of your own choice. You can choose from the following:
1. Annealed tinted glass – This type is heat-absorbing. It minimizes solar heat transmission within your house or building.
2. Heat-strengthened glass – This is twice as strong and durable as the annealed tinted glass.
3. Tempered glass – This is five times stronger than the annealed glass. Understandably, this glass cannot be cut.
4. Insulated glass – This type minimizes the heat loss to the exterior of the building.
5. Reflective glass – This is ideal if you want a shiny exterior. Reflective glasses come in various shades and colors.
Finally, if you want something that addresses safety issues, our Lawson windows also have the Egress model, which is appropriate for emergency openings and rescue purposes.
#1 Lawson Windows Supplier
South Florida Windows and Doors is your trusted local partner when it comes to window supply. We offer windows of the finest quality, ensuring that your Loxahatchee, FL property won't suffer from hideous and poorly made windows.
We are proud to provide products from the best brands only. As a matter of fact, our Lawson windows are famous for living up to their promises. Their quality never disappoints a client but exceeds their expectations instead. Whether you will use them for a residential or commercial building, Lawson windows are always reliable for safety and durability. They are guaranteed to withstand harsh weather and extended periods of usage.
Aside from their ensured best quality, our windows are also offered with various designs to choose from. Your preferences can be integrated into the final look and function of your Lawson windows. You just have to talk to our windows specialist, state the specifications you want, and we will be crafting your dream window in no time.
With South Florida Windows and Doors, we do not only supply your windows. We offer installation services as well. All you have to do is contact our technical support team and discuss the window placement, energy efficiency calculation, and other important factors in a successful installation.
Get Your Free Quote
Note that the final cost of your Lawson windows will matter on their type, size, color, and other features. It is then essential to talk to our windows expert and compare the different models to assess each of their pros and cons.
Whatever you end up choosing, Loxahatchee Lawson windows by South Florida Windows and Doors will surely not disappoint.
Contact South Florida Windows and Doors at (754) 704-1033 to get a free quote for your Lawson windows now!