North Palm Beach Hurricane Impact Doors
For elegant and extremely durable clear doors for your home, office, or any type of building, trust South Florida Windows and Doors. Your Palm Beach County impact doors company, we produce, install, optimize, and maintain your impact doors, ensuring you have the perfect protective barrier for your home or business. High-quality glass hurricane impact doors installed by our experts will withstand any storm thrown against your building.
Also known as storm-proof or hurricane-resistant doors, hurricane impact doors are modern, attractive glass doors available in a variety of styles and sizes. We provide hinged impact doors, sliding impact doors, and folding impact doors that often go hand-in-hand with impact windows to accomplish an impressive look and style.
These doors are made with impact-resistant glass treated with layers of substances, like polyvinyl butyral (PVB) or ethylene-vinyl acetate (EVA), to be reinforced enough to withstand dangerous debris and winds brought by storms. This is significant for places that regularly receive strong hurricanes like Florida. But despite the frequent hazardous weather, you have one less thing to worry about when you equip your home or business with these durable and attractive glass doors. With South Florida Windows and Doors, you can have the best possible quality of hurricane impact doors quickly and affordably.
Our years of window and door construction experience has enabled us to cater to the different preferences of various clients in Palm Beach County, FL. Your need for safety, quality, and dependability are our top priorities. We know the importance of feeling secure even during the strongest hurricanes that hit the state. So trust South Florida Windows and Doors in handling your hurricane impact doors. We are your best bet in protecting your home against storms, and we can't wait to work with you!
Call South Florida Windows and Doors at (754) 704-1033 for a Free Consultation & Estimate!
Why Choose Hurricane Impact Doors
Hazardous storms are a serious consideration in places like Florida, which is historically the state that has the most number of hurricanes and thunderstorms in America. Even if we can't stop these storms, we can still prepare for them.
And when it comes to getting the aesthetic of clear, glass doors without compromising durability, South Florida Windows and Doors can provide them quickly, professionally, and affordably.
Indeed, South Florida Windows and Doors 's Palm Beach County hurricane impact door professionals deliver high-quality products that are your best bet in providing great protection and design for your space, and here's why:
Hurricane impact doors provide more than storm protection
When it comes to a building's safety against storms, the first thing that comes to mind is strengthening roofs and windows. But doors are also vital. Properly manufactured and installed impact-resistant doors, despite being glass structures, can withstand winds beyond a hundred miles an hour.
While the protection these doors can provide against storms is impressive, they can deliver more than just storm resistance. Aside from storm debris, they can also keep out sound, harmful ultraviolet rays, and burglars.
The reinforced glass doors that South Florida Windows and Doors will install in your home or office can prevent quick burglary. These doors are strong enough to withstand break-ins and can give you ample time to do what you need to do to alert authorities, and otherwise protect your family. They can also provide more serenity to your home, as they keep external noise pollution out.
Finally, the material of impact doors keeps the heat away from the interior of the house while still letting enough light in. Truly, hurricane impact doors, when produced and installed right, can be the next greatest upgrade you can give your place.
Hurricane Resistant Door Company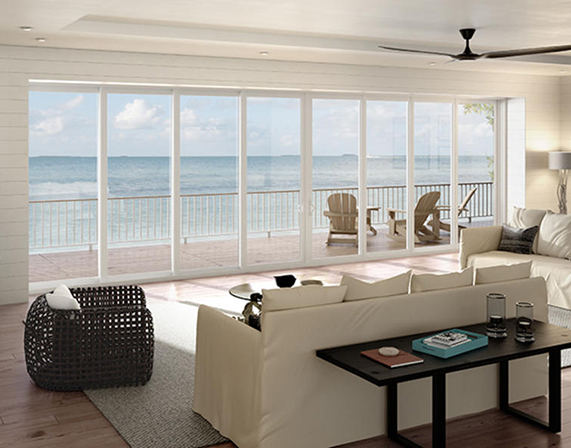 South Florida Windows and Doors is a FL state-licensed general contractor. We assure you that whatever specifications of the hurricane impact doors that we put in your home or office, they would be the best available in the industry and will meet or exceed state and local regulations on construction and building safety.
Our years of experience in the Palm Beach County impact doors and windows industry has trained us to handle all the needed services in putting hurricane impact doors in our clients' homes and businesses. We are equipped to provide consultation services about window and door construction, to produce the best materials in the industry, to install them quickly and perfectly, and to handle our business with optimum customer service.
Tell us what your needs are regarding high-quality impact doors and windows, and we'll deliver them to you flawlessly with a professional's guarantee. We can't wait to work with you!
Impact Door & Window Provider
South Florida Windows and Doors desires to be your full-service provider of every Palm Beach County impact door or window product you ever need. We help you get the right windows installed, not just in the technical aspect of construction, but also with deciding on the best options for your needs, budget, and building.
We can start with a conversation about your house or business, your goals, and your preferences for your impact doors. Our professional door experts are here to help you get the best deals available. We are excited to provide you with the best storm-resistant doors you can get in Palm Beach County.
Call South Florida Windows and Doors at (754) 704-1033 for a Free Consultation & Estimate!