Loxahatchee Hurricane Impact Windows
Are you looking for industry-grade windows that bring security and quality to your building? South Florida Windows and Doors is your one-stop-shop for the best Palm Beach County hurricane impact windows.
As your local full-service provider of all the products and services needed for high-quality windows, we know how important security is to people from all walks of life, from families, customers, employees, and everyone else. This is why at South Florida Windows and Doors, we only provide the most refined materials handled by the best window construction and design experts in the business. If you're looking for windows that can withstand all types of hazardous natural elements, then you came to the right place. We can install the best impact windows for your home or building fast and flawlessly for the fairest prices in town.
Also known as storm-proof or hurricane-resistant windows, hurricane impact windows are made of specially designed glass that resists impacts. They are also treated with materials such as polyvinyl butyral (PVB) or ethylene-vinyl acetate (EVA) to reinforce their structure. Instead of shattering into hundreds of shards, reinforced windows crack into a web-like pattern when damaged. If you don't know where to buy or who to trust regarding real impact windows, you can trust South Florida Windows and Doors.
Our only goal is to be your only partner in providing the best Palm Beach County impact windows. Talk with one of our local impact window experts today, and have your life changed with the best quality windows you will ever get.
Call South Florida Windows and Doors at (754) 704-1033 for a Free Consultation & Estimate!
Why Choose Hurricane Impact Windows
Florida is known for having a harsh hurricane season, especially here on the east coast. We can't control how hard they hit, but we can control how strong we build our windows. Hurricanes are known to bring various types and sizes of debris that may cause considerable damage to buildings that are not built with substantial materials.
Indeed, South Florida Windows and Doors's hurricane impact windows just might be the best new upgrades you can give to your home or office, and here are the main reasons why:
Hurricane impact windows provide protection
With South Florida Windows and Doors's layered, sturdy windows, you won't have to worry again whenever bad weather storms Florida. Our industry-grade hurricane impact windows meet Florida's building codes. We provide windows that are designed and built to withstand the strongest winds and the heaviest downpours. But beyond the capability to stand against storms, impact windows can also protect you from burglary, noise, and harmful ultraviolet rays.
Because of their multi-layer design, our impact windows will make burglars find it very difficult to penetrate the insides of your building. They also reduce the amount and volume of outdoor noise that stretches inside the house.
Finally, impact windows can filter out about 90 percent of harmful UV rays from the sun, protecting your furniture, carpets, and drapes from fading. In a place that enjoys a lot of natural sunlight like Florida, additional protection from rays is always helpful. Whatever you need protection from, South Florida Windows and Doors can help you choose the best materials to maximize your hurricane impact windows.
Hurricane impact windows save you money
Speaking of too much sun in the locale, the weather in Florida also makes us use a little more for the air conditioner's electricity bill.
South Florida Windows and Doors's impact windows help regulate the interior temperature and keep outside heat from entering the building. If you want, we can also put tint on your impact glass windows. They absorb solar radiation, adding more protection from the sun. You can also choose to have Low-E glass coating, which keeps heat out and the light in.
In general, all these features for our impact windows can help you save more energy by reducing heat in your home. We can help you decide which specifications are best for your building. We have all the resources and expertise needed to guarantee that whatever we will install in your home or office, it will be the best choice you can get in Palm Beach County.
Full-Service Hurricane Window Experts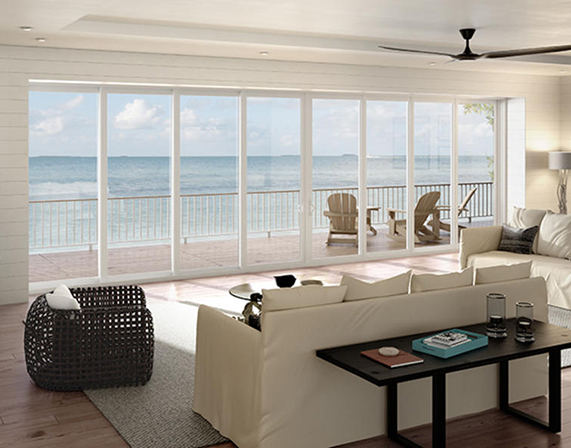 South Florida Windows and Doors is a Florida state-licensed general contractor. We can guarantee that whatever type of hurricane impact windows that we install in your home or business, they will be the best products available in the industry and perfectly suited to your home and personal style preferences, as well as strictly comply with state and local regulations.
With our years of experience in the window industry, we are able to provide the services to complete each aspect of window selection, installation, and finishing. We can help you with planning, designing, and installing your new, high-quality windows, and will be there for you to answer any questions that may arise. All you need is to tell us what you want for your windows, what protection level, tint, and styles are most desirable for you, and we'll take care of the rest of the process. We can't wait to work with you.
Impact Window & Door Provider
South Florida Windows and Doors is your Palm Beach County, FL impact window company, providing high-quality, durable, functional, and attractive window solutions that perfectly suit your location and needs. We are also window consultants and are happy to help you out even if you're still unsure about getting hurricane impact windows
Our impact window installation process starts with a free consultation with a local certified window expert that can discuss with you the technicalities of our products and services and then decide from there. With South Florida Windows and Doors, you will get only the best storm-resistant windows you can ever find. It all starts with your call.
Call South Florida Windows and Doors at (754) 704-1033 for a Free Consultation & Estimate!